The ApiMote v4beta version is beta hardware intended for students, researchers, engineers, and security professionals to use for learning about and evaluating the security of IEEE 802.15.4/ZigBee systems.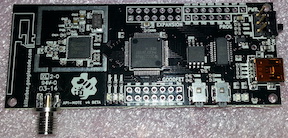 Usage
Most users tend to purchase a pre-made and pre-programmed board, and then follow the instructions to use the KillerBee software with it.
Source Code
For source code, schematics, and firmware:
git clone https://github.com/riverloopsec/apimote.git apimote
The design files are created in KiCad, and we recommend opening them in the latest version.
Presentations
We have announced the ApiMote v4beta design and released it as open-source hardware at the TROOPERS14 security conference. This hardware was designed specifically with security researchers and assessors in mind, and it is supported by the KillerBee software toolkit and GoodFET. The ApiMote v4beta offers unique capabilities unfulfilled by other interfaces currently available.
Conditions
Copyright 2013-2014 River Loop Security, LLC. Released as Open-Source Hardware under the LICENSE.txt terms. You must use this hardware (and any accompanying software) as authorized by law, and it is provided pursuant to those terms. We are not responsible for any unauthorized or illegal use of this research tool.